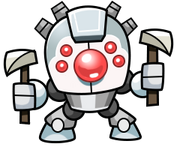 "Gives 10 Shards, once per day. Also increases the Energy cap by 20! Item lasts 30 days."
Increases Energy Cap by

20 while held.
Every day the Super ShardBot awards

10.
After 30 days the Super ShardBot disappears.
You can only have one ShardBot active at any time.
Ad blocker interference detected!
Wikia is a free-to-use site that makes money from advertising. We have a modified experience for viewers using ad blockers

Wikia is not accessible if you've made further modifications. Remove the custom ad blocker rule(s) and the page will load as expected.